*Page Under Construction…more to come!
Ralph Mucci of The Wedding Planning Audiocast interviews It's A Jaime Thing for the "Meet The Wedding Bloggers" show!
To listen to the interview, click HERE.
Kim Vallee interviews It's A Jaime Thing…
Lifestyle and entertaining expert, Kim Vallee shares every day ideas on entertaining, home decor, dining, living, gift ideas, travel and more. Interested in reading Jaime's tips and advice on entertaining, or in learning about some of her favorite wedding vendors in the Chicagoland area? You can do so by clicking HERE.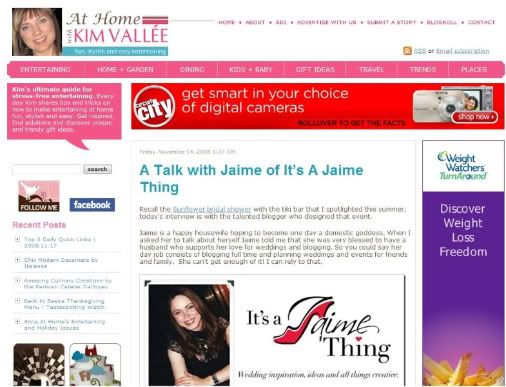 If you live in Chicago or plan on visiting soon, click HERE to read about some of her favorite places in the area, such as cool places to shop and dine at. There is so much to do and see in this city, you'll never go bored!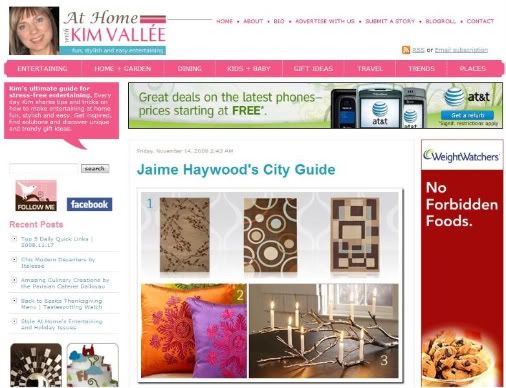 It's A Jaime Thing invited to become a Wedding Expert & Fashion Expert to write weekly for Wishpot.com!
She now writes weekly guest blog posts for the Wishpot.com Wedding Blog and Fashion Finds Blog.
"Wishpot is a free social shopping service that makes it easy to save and share interesting things you find in stores and online. Items are easily collected online or from stores and organized using simple online lists. Lists and items can be kept private or shared with others. You can collect and discover products you like, recommend your favorite stuff, share and explore gift suggestions or ask for opinions and advice." – Wishpot.com
I am so grateful to have received these awards above from other fellow bloggers and I'm glad to be a part of this super sweet wedding blogging community! Thank you so much, everyone!
It's A Jaime Thing featured & listed at the Brides.com Wedded Bits Blog!
In 2008, Jaime was honored and thrilled to be invited to the Brides.com Wedding Bloggers Luncheon at the Conde Nast building in NYC! There she met Editor-In-Chief of Brides.com, Michelle Preli, celebrity wedding gown designer Angel Sanchez and a small group of very creative wedding bloggers.
To read more about her amazing experience, click HERE, HERE and HERE!
It's A Jaime Thing listed on the BridalGuide.com blogs.
To read, click HERE!
OneWed.com invites "It's A Jaime Thing" to become a weekly guest blogger on their new blog, Savvy Scoop!
Get to know a little more about Jaime by clicking HERE.
OneWed.com also sent out a press release and was featured in Market Watch! Be sure to visit Savvy Scoop for weekly inspiration and guest blogs by other wedding bloggers, including "It's A Jaime Thing":
"Featured regular contributors will include The Man Registry, Always a Blogsmaid, Bubbly Bride, It's A Jaime Thing, Bride Chic, DIY Bride, Ever After Market, and Hostess with the Mostess. In addition, the blog will feature a column called "Honest Answers from the Experts" with advice from top wedding vendors including photographers, stationery manufacturers, event planners, wedding hairstyle experts, and more." – MarketWatch.com
Shoe Smitten interviews It's A Jaime Thing about shoes, fashion, style and more!
To read the article, click HERE.
It's A Jaime Thing makes the front page of Blogs.com!
It's A Jaime Thing voted as one of the "The Top 10 Wedding Blogs" by The Las Vegas Wedding Concierge!
"Tracey Kumer-Moore, JWIC is "Your Las Vegas Wedding Concierge," the city's premier wedding planner providing unparalleled service in assisting couples around the corner and around the world plan their fabulous wedding or destination wedding in fabulous Las Vegas style…with their STYLE! In addition to her success as Las Vegas' finest wedding consultant, Tracey has become THE go-to-source as a Destination Las Vegas Wedding Expert with her blog Diary of a Las Vegas Wedding Concierge and has been widely quoted and published in national wedding media and blogs. These are her favorite wedding blogs that she reads every day." – Blogs.com
More from Tracey's blog…
"Your Las Vegas Wedding Concierge is honored to be selected by Blogs.com as one of their featured "Top 10 Lists" authors. They asked for my top 10 wedding blog daily reads that every bride should go to for information, education and inspiration before your celebration! Let me tell you that this was HARD! I have so many wonderful blogs that I read daily that inspire me but since it was directed more to what brides are reading most, I felt this was the best cross section. I look at it as my 'Basics List' on iTunes." – Tracey
To read the rest of her post about her top 10 picks, click HERE. What a gal!
It's A Jaime Thing mentioned as #10 in the Wedding Blogs Power 100 List!
It's A Jaime Thing featured on the InStyle Weddings magazine blog, Style School!
To read, click HERE.
It's A Jaime Thing joins Editor-In-Chief, Michelle Preli of Brides.com, Ami of Elizabeth Anne Designs and Bloomingdale's to help host Chicago's "Here Comes The Blog" event!